Make it simple to eat well every single day with easy, healthy Thermomix recipes from our Eat Well Cookbook.

We know a busy work-life schedule can make it difficult to stick to a healthy eating regime, sourcing hard-to-find ingredients and cooking everything fresh from scratch. Plus, there's so much confusing and conflicting info out there about nutrition. But we've done all the research and meal planning for you, creating 102 good-for-you Themomix recipes that'll nourish your body with a nutrient-rich rainbow of foods, from breakfast and snacks to lunch and dinner.
Inspired by Thermomix nutritionist and dietician Bianca Mazur, and developed by the Thermomix Recipe Development team, the Eat Well Cookbook keeps things simple and helps you choose and prepare the most nutritious, wholesome and tasty foods. It even makes cooking for allergies easy – every recipe in the book is allergy-friendly, with gluten-free, nut-free, dairy-free, egg-free, low FODMAPs and low GI options.
Take control of your family's health. Eliminate unhealthy processed foods. Cut down on preservatives and additives. Treat every opportunity to eat as a chance to nourish your body!
Did we mention these easy, healthy recipes are beautifully illustrated too? Our Eat Well Cookbook was the Australian winner of the Gourmand World Cookbook Photography awards.
Key Features
102 easy, healthy breakfast, lunch, snack and dinner recipes
Simple nutrition advice and tips
10 meal planning playlist
81 gluten free recipes
63 dairy free recipes
Plus Grace's favourite sauerkraut recipe!
We triple test every single one of our recipes in the Thermomix kitchen, but there are always some we simply can't get enough of. This moreish trio of dishes from the Eat Well Cookbook are our favourite go-tos for boosting gut health and nourishing the body.
Smoky beetroot and black bean sliders with soused cucumber
We got the carnivores to taste test these mini burgers, and they got a big thumbs up all round. High in fibre, they make a great filling meal for a Meat-free Monday, a light lunch, a snack or as a share-plate. You can make the patties in advance and store them in the fridge or freezer, then cook them as you need them. View the Smoky beetroot and black bean slider recipe on Cookidoo.
Hunter's stew
Also known as "bigos", this traditional Polish dish is a great way to use up leftover meat, an easy way to feed a large family, and a good way give your gut a healthy boost of pre-biotics - thanks to the sauerkraut. In the winter months when we're craving some warming comfort food, we love to pair this hearty stew with potatoes and some deliciously thick crusty bread. View the Hunter's stew recipe on Cookidoo.
Smoky Mexican bean soup
This low-kilojoule, high-fibre soup is an easy and inexpensive way to fit your five veggies into your day. It's also gluten free, dairy free, egg free and ready in just 35 minutes, making it an all-around winner! View the Smoky Mexican bean soup recipe on Cookidoo
How many of the Thermomix recipes in the Eat Well cookbook are suitable for allergies and specific dietary requirements?
Of the 102 easy healthy recipes, 73 are vegetarian, 30 are vegan, 81 are gluten free, 63 are dairy free recipes, 73 are egg free and 63 are nut free.
Plus, it features our absolute favourite sauerkraut recipe !
Eat Well
This is a beautifully presented book with an abundance of fabulous recipes.
I recommend this product
I don't recommend this product
Eat well cookbook for thermomix
Very disappointed in this book thought I got the vegetarian/vegan cookbook. Is there anyway I can exchange this book
Sorry to hear you are disappointed Gianna. I have looked into your order and can see you have ordered the Eat Well Cookbook, not the Vegetarian Kitchen Cookbook which can be found here - https://thermomix.com.au/products/vegetarian-kitchen-cookbook-tm31-tm5
You are welcome to get in touch with our customer service team regarding this and they will see what they can do. Hope that helps.
Send a hint
Get the gift you love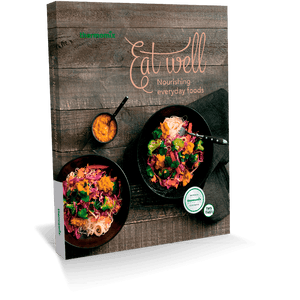 Send a hint by
Perfect for these popular recipes