For all those oopsy moments when adding dry ingredients, the Sweeper Thermomix cleaning brush is our favourite hack tool. It's the best, quickest and easiest way to get spilt dry foods out of all those tight spots and hard-to-reach places on and under your machine.

The super-soft pointed end of the Thermomix cleaning brush is designed for dusting the locking arms, screen and dial with the gentlest touch, so it won't scratch or put pressure or stress on your machine. The tapered end fits perfectly under your machine to sweep crumbs away. And the ergonomic handle takes good care of your hands and wrists too, keeping them in a comfy, neutral position without needing to twist.

If you've been using a damp cloth for the job, not only can you put unnecessary pressure on the locking arms of your Thermomix, but dry ingredients can soak up water and clog up in nooks and crannies on your machine. And that's the beauty of the Sweeper Thermomix cleaning brush – dry and gentle, but tough enough to get the task done without any fuss.
We like to hang it up by the hook on the handle and keep it handy for those little spills with the porridge oats at breakfast, or with the flour, cocoa and icing-sugar when the kids are helping with the baking.
We also love using the Sweeper under the microwave, as a toaster cleaning brush and a coffee machine brush for quickly cleaning the filter too.
Key Features
Double ended cleaning brush removes crumbs from nooks and crannies
The perfect hack for how to clean Thermomix locking arms and dial
Quality soft nylon bristles clean without scratching your machine
Ergonomic handle keeps hands and wrists comfy without twisting
Great toaster cleaning brush and coffee machine brush too
Small hole on handle to hang it up within easy reach
Give your Sweeper Thermomix cleaning brush a good thorough wash in warm water and hang to dry before first use, or if it's not been used for a while. If you use it often, like we do, a quick rinse under the tap after each use is all you need.
Love it takes the fiddlyness out of cleaning the arms
Love it takes the fiddlyness out of cleaning the arms
Makes cleaning easier
Makes cleaning the tricky places much easier
Double sweeper cleaning brush
So great should of brought one earlier. A must to have.
Send a hint
Get the gift you love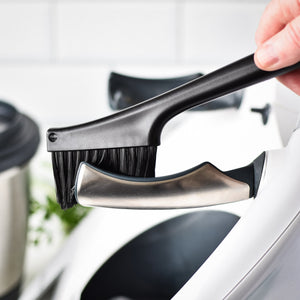 Send a hint by
Perfect for these popular recipes