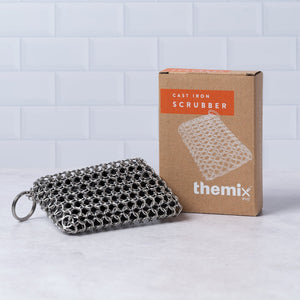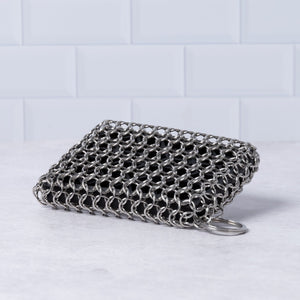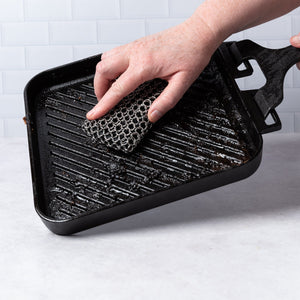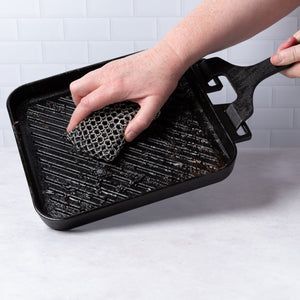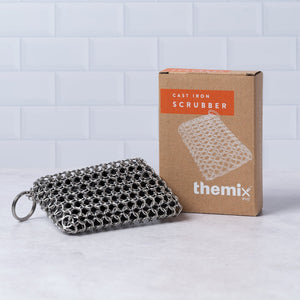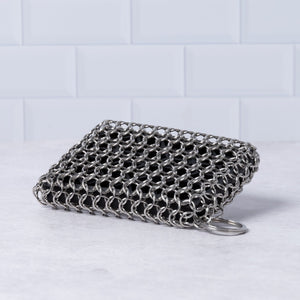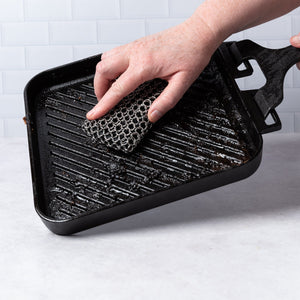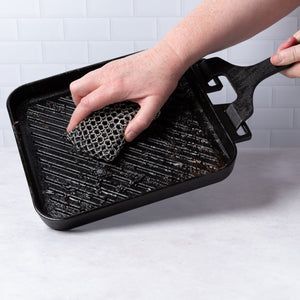 Cast Iron Scrubber

Pair and Save
Receive 15% off this Cast Iron Scrubber when purchasing our Ovana Sizzle Pan
Never fear cast iron pan cleaning again with our trusty stainless steel cast iron scrubber in your kitchen sink cavalry. This is your skillet cleaning saviour in shining armour, coming to the rescue in any burnt-on or sticky situation, cleaning faster than any cast iron cleaner can, protecting your pan and keep it looking and cooking its best.

You'll never need to go to battle on stubborn foods and marinades with brutal force and risk removing seasoning with harsh soap, detergents or soaking ever again, because this super-strong, rust-resistant 304 stainless steel chainmail scrubber has got your back and the job done.

Our Recipe Development team originally set out on a mission to conquer the 'how to clean cast iron' challenge for our Ovana Sizzler Pan. But this tough little guy also came out tops for cleaning every non-enamelled cast iron pan and pot cleaning job. Every raw cast iron skillet, wok or griddle pan and all raw cast iron barbecue grills, plates and cooktops.

You can use the metal scrubber dry or with just a drop of warm water to cut through all residue without damaging your cast iron pan or stripping away those hard-earned layers of seasoning that add flavour and protect it from rusting. And all it needs is a quick rinse under the tap before going into the top drawer of your dishwasher to keep it hygienically clean, ready for your next cook up.
It's perfectly sized and shaped to fit comfortably in the palm of your hand and get into all the corners to get you out of the stickiest mess. And because it's bolstered with a food-safe and heat-resistant silicone insert, it's easy to get a good firm, non-slip grip on your cast iron scrubber (much easier than with flat cast iron scrubbers) while you let the toughened steel do all the hard work.

Ideal for dealing with the aftermath of buffalo chicken or marinated steaks. You can even put your stainless-steel chainmail scrubber to work on cleaning cast iron while your skillet, pan, grill or barbecue plate is still sizzling hot, as long as you protect your hands with barbecue gloves or tongs.
Key Features
How to clean cast iron fast, without fuss or detergent
Easily removes stubborn burnt-on foods and marinades
Cast iron cleaner protects against rust by protecting the layers of seasoning
Cleans without water or soap, so it's great for camping too
Ideal for raw cast iron skillet cleaning, pots, pans, woks and griddles
Great for cast iron grill cleaning, barbecue plates and cooktops too
Durable, rust-resistant 304 stainless steel chainmail scrubber
Heat-resistant and stain-resistant silicone insert gives a firm grip
Square metal scrubber gets into all the corners
Easy to clean, give it a quick rinse or pop in the dishwasher
Hygienic with a handy loop to hang and air dry
Length – 11cm
Width – 7cm
Depth – 2cm
Rinse your stainless steel cast iron scrubber under the tap and pop it in the top drawer of your dishwasher. Or add a drop of dish soap, rub between your hands, rinse and hang to dry from the loop. We don't recommend using this for your Firra Cookware and enamelled cast iron, but it will happily go to work on all your uncoated raw cast iron cleaning jobs, including your barbecue grill.
Why it's so important to protect your pan's seasoning
The real big benefit of uncoated, raw cast-iron cookware is its unmatched ability to heat evenly, handle extremely high heat and hold that heat for longer than regular pans. However, as its not coated with non-stick fluorine resin, you'll need to give it a natural protective coating of its own by seasoning your pan with oil.
Once you've seasoned your new pan, every time you use it you're adding another protective coating. But cleaning it with harsh detergents, or even mild soap, can undo all that good work. It can strip all those layers clean off, causing foods to stick and rust to form on the unprotected surface.
With the stainless steel cast iron scrubber, you can clean all raw cast iron fast, without fuss or detergent, easily removing stubborn burnt-on foods and marinades while carefully protecting your layers of seasoning.
87%
of reviewers would recommend this product to a friend
Does what it says.
Works well. Cleans up cast iron really well. I've used on my Solidteknics pans and it cleans them up nicely too.
Excellent for cleaning the wok
Well made. Light and rinses easily. Works to clean with just water superbly.
Scrubber
Great cleaner & non rust is a bonus
Scrub a dub
Great scrubber, easy to wash in the dishwasher, fits nice in your hands on thing is that it doesn't get into the groves of my griddle pan as easily as I'd hoped.
Send a hint
Get the gift you love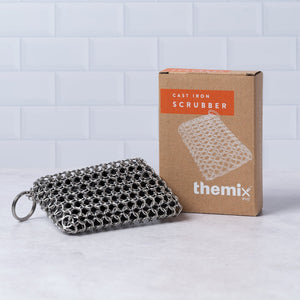 Send a hint by
Perfect for these popular recipes