Maximum Instagrammable wow factor for minimal effort, our signature rose gold non-stick bundt cake pan makes it super easy to turn out showstopping ornate ring cakes for any occasion. Bakes big enough to feed and please a crowd and shaped to cook quickly and evenly every time. Perfect for mid-week bring-to-work cakes, or ready-in-a-flash dinner party cakes.

No need to fuss over decoration. Our beautifully crafted non-stick bundt cake pan moulds your creation with a gorgeously intricate pattern that extends right to the bottom edges. Finish with a quick dusting of icing sugar, a drizzle of simple glaze icing, or for a rich, glossy centrepiece add a smothering of chocolate sauce. With no fiddly middle, it's easy to cut the perfect slice without demolishing your creation too.

And on the inside, you get that just right, evenly baked sponge. Every. Single. Time. The hole in the middle isn't just for decoration. The tradition of the ring or bundt cake was designed to bake cakes quicker and more evenly than your run-of-the-mill round or square cake – avoiding any gooey sunken middles. Over centuries, the Romans, Austrians, Germans, Italians, Scandinavians, East Europeans and North Americans have all embraced its innovative design, so it's thoroughly tried and tested.

For our timeless decorative bundt cake pan, we sourced the highest quality heavy cast aluminium and added our signature rose gold non-stick coating to give you optimum heat distribution and a lifetime of consistently impressive baking results. It's fridge and freezer safe too, so you can mix it up with ornate chilled and frozen desserts.
This is definitely one to keep for life and pass on to your kids!
Key Features
Max wow factor for min effort - makes showstopping dinner party cakes easy
Inspired by the German baking tradition Kugelhopf or Gugelhupf
High quality heavy cast aluminium – keep it for life and pass it on to your kids
Even heat distribution and consistent baking results
Easy to cut the perfect slices - no fiddly middle bit
Makes the perfect quick and easy take-to-work cake to wow your team
Signature rose gold non-stick coating
Easy to un-mould and clean
Non-toxic PTFE and PFOA chemical free coating
Fridge and freezer safe – ideal for making chilled and frozen desserts too
Our quality heavy-weight rose gold non-stick surface is not suitable for your dishwasher, but it won't keep you at the sink. It just needs a quick wash in hot soapy water with a soft cloth. Avoid any abrasive materials when cleaning and leave your bundt cake pan out to dry before storing away. We like to place it in a warm oven to dry quickly. Some surface discoloration may occur with use over time. 
How to make the perfect bundt cake.
Make sure your bundt cake pan is clean, dry and greased well with a little oil or butter, and check your oven is set to the correct temperature for the recipe you're following. Your cake batter shouldn't be over mixed, but it should be smooth and free from lumps. Spoon the batter into the pan and tap it on the kitchen bench two to three times to remove any air bubbles. Also, be sure not to over-fill your cake pan. Fill to below the rim to allow for rising. Once baked, leave your bundt cake to stand in the pan for 10 minutes before turning it out with a gentle shake.
You'll find all our favourite bundt cake recipes on Cookidoo. You can use a standard cake recipe if you wish, but be aware that you may need to make some adjustments to increase the quantity of cake mix to fit our deep bundt cake pan.
How to make a bundt cake not stick.
Ensure your bundt cake pan is greased well with a little butter or oil and, if the recipe requires, dust with flour before spooning in your batter. Follow these simple steps and our signature rose gold non-stick surface will effortlessly unmould the perfect cake, every time.
How to make glaze for a bundt cake.
Thermomix Recipe Developers the world over have added heaps of great recipes to Cookidoo for icings and glazes. Go to cookidoo.com.au
How to make a jello mould with a bundt cake pan.
Grease your bundt cake pan to allow your jelly to rest in fridge until set, then release the airlock to unmould. 
Beautiful bunt
Fantastic incredible quality
Bundt Cake Tin
Wow, this Bundt Cake Tin is wonderful as one doesn't have to prepare this tin...the cake just comes out once you have let it cool. amazing...
Suzie Worth
Love it……made an amazing rhubarb and pecan nut cake dusted with vanilla sugar
Turn out a great looking cake with this.
It makes my banana nut bundt cake not only taste amazing but it looks impressive too.
Send a hint
Get the gift you love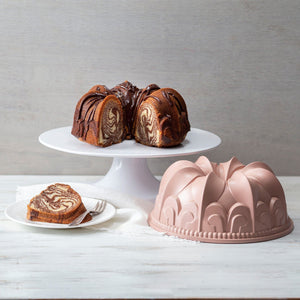 Send a hint by
Perfect for these popular recipes