Bread Proofing Basket
$29.95
Save $0.00 off the regular price
Pair and Save
Receive 20% off our Stainless Steel Dough Cutter when purchasing our Bread Proofing Baskets
Rattan Proofing baskets, or banneton, are popular in artisan baking. They support the dough while it rises during the fermentation process, giving a uniform shape and they allow the distinctive ridge of the basket to imprint on the crust.  This results in a beautiful, hand-crafted loaf that looks like it sells for a small fortune at specialised bakeries 🥖

We gave our Recipe Development team a selection of proving baskets to test and these were the clear winners. They hold a big 1.25kg dough and their shape resulted in an attractive loaf that baked beautifully - and was delicious!!  

Our custom-fitted fabric lining whisks away extra moisture from your dough, resulting in a smooth and crispy crust. It's the best of both worlds as you can opt to use with the liner or without. 🤷🏼‍♀️

It is made of rattan, it's a strong, natural and durable material, and can therefore be reused at will.

Be sure to flour your basket before popping your dough into prove and tag us on Instagram with @thermomixaus to show us your creations! 
Key Features
Prevents your dough from flattening out and creates an beautiful, decorative crust
More suited to rustic loaves like Rye, Sourdough and Pane di Casa 🇮🇹
Flour the basket thoroughly before adding the dough
Some preparation of basket required before use - please see instructions
Only for proofing stage - not to be used in the oven
Fun fact: otherwise known as a banneton or a fermentation basket
Our Recipe Developer Isa 👩🏼‍🍳 recommends the Thermomix bowl brush for brushing out the flour
Click here for the printable instructions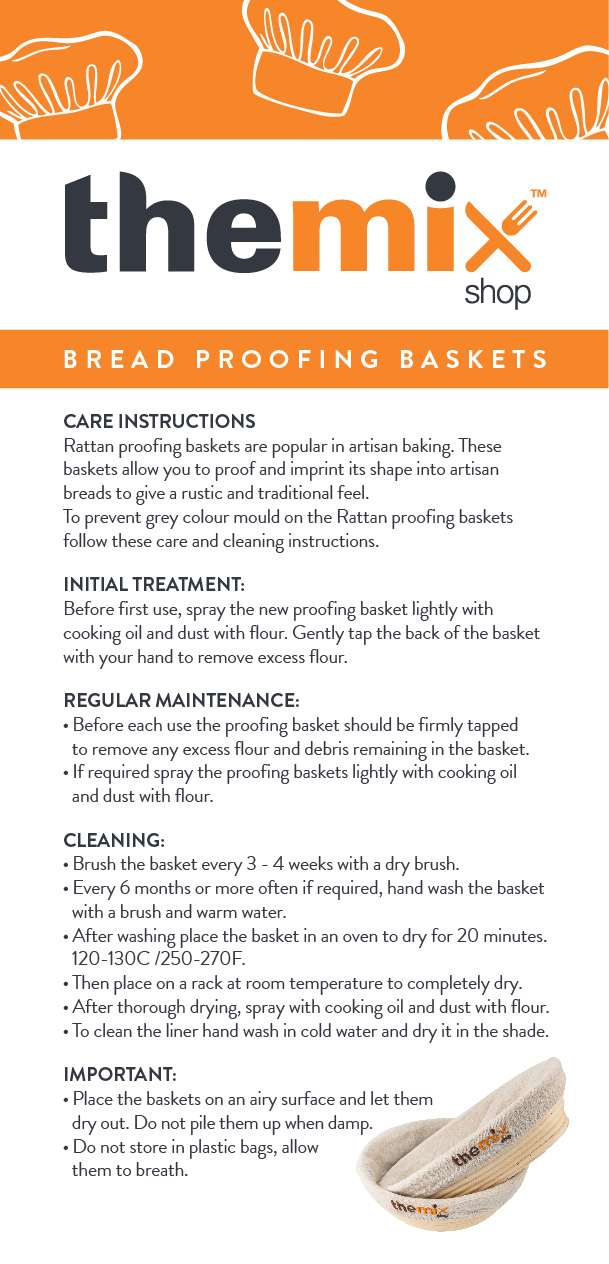 OVAL - Length: 28.5 cm, Width: 17.5 cm, Height: 7.5 cm
ROUND - 23cm diameter, Height: 8 cm
I recommend this product
Good quality
This Banneton proofing basket is really good quality with a beautiful calico cover. Perfect for a good size Batard. I would definitely recommend it.
I recommend this product
Nice n long to roll out bread or any type of dough
break basket
Grate value on click frenzy sale
I recommend this product
Perfect for these popular recipes