Knock the great Aussie and Kiwi barbecue out of the park with the Barbecue cookbook and 101 recipes that partner your Thermomix with your bbq to create your dream cook-up team. 

This will really step up your smoking and grilling game, with bbq recipe inspiration for every year-round occasion plus time-saving meal prep tips throughout the barbecue Cookbook. Ultimately, it means you get to enjoy more amazing food, as well as more quality time with your family and friends – whether it's a big weekend backyard bash, a simple mid-week cookout, or an epic camping and fishing trip. 
Spark up your standard steak with amazing marinades, sauces and seasonings. Learn how to get creative with native spices like lemon myrtle and wattleseed. Add vegetarian and vegan bbq recipes, sides, salads and tear-and-share breads that will have everyone coming back for seconds. Or go big with a decadent dessert and cocktails!   
There are tips on cooking with gas, charcoal and wood, including how to smoke food, and some of the bbq recipes will introduce you to a new game-changer – the Meater+. This smart piece of guided cooking tech is the world's first truly wireless meat thermometer. It takes all the guesswork out of cooking meats and keeps a virtual eye on your bbq while you're in the kitchen prepping side dishes in your Thermomix. 
Don't have a barbecue just yet? The Barbecue Cookbook caters for you too! Most of the bbq recipes include tips on how to cook the dish in the oven or on the stove top.
Suitable for Thermomix TM6, TM5 and TM31
Key Features
101 bbq recipes that pair your TM31, TM5 and TM6 with your barbecue
Barbecue recipes for mid-week meals, bring a plate, camping and big entertaining
9 recipes that use the MEATER+® - the world's first truly wireless meat thermometer
Intro to essential tools of the trade and bbq cleaning tips
Tips on cooking with gas, charcoal and wood – including how to smoke food
Suitable for Thermomix TM6, TM5 and TM31
Like most Aussies and Kiwis, our Recipe Developers are particularly passionate about barbecuing. And nothing excites them more than sharing all the magic (and convenience) of bringing your barbecue and Thermomix together to work hand in hand. Here are just a few examples of how that teamwork makes the dream work.
Five spice chicken with asparagus and snow pea salad
Only 15 minutes of prep with your Thermomix, and this super easy healthy recipe is ready to rock 'n' roll and full of flavour. You can take all the guesswork out of getting the chicken done to perfection by using the MEATER+, and you've got the option of making your own fabulous spice rub in your Thermomix too.  
Aussie spice rub
Australian native spices are really coming into their own on the culinary scene, and this rub adds a massive restaurant-quality flavour hit to any dish. Meats and poultry. Tofu and vegetables. Even bread doughs!
Buffalo chicken wings
One of the Recipe Development team's all-time favourites. Serving this as a starter will all but guarantee to get your party started with a finger-licking thumbs-up! And you can dial the heat up or down to please your crowd.
Curried cauliflower salad
Who says no one makes friends with salad? Well this salad isn't your common-or-garden salad. Everyone will be coming back for seconds. Which is why we made sure the recipe makes a huge amount, with minimum effort. It's ready in just 40 minutes.
Gin and lime pie
Anytime is good for "gin time" with this stylish dessert. Taking its flavour cues from the classic gin and tonic, we've given it zingy twist of lime. No one will judge you for having a second helping, since everyone else will be doing the same! 
More recipe inspiration
Thermomix Barbecue Cookbook
BBQ Cookbook
It has some good recipes and ideas which I look forward to using.
Happy with my purchase
I haven't had a chance yet to cook anything from it but I'm excited for when I get a chance.
Send a hint
Get the gift you love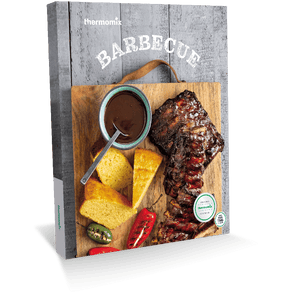 Send a hint by